Clinical Excellence
Methodist Transitional Care Center is well equipped to provide both short-term and long-term care. For more information about our clinical capabilities, additional services or to schedule a tour of our facility, please call us today!
Clinical Outcomes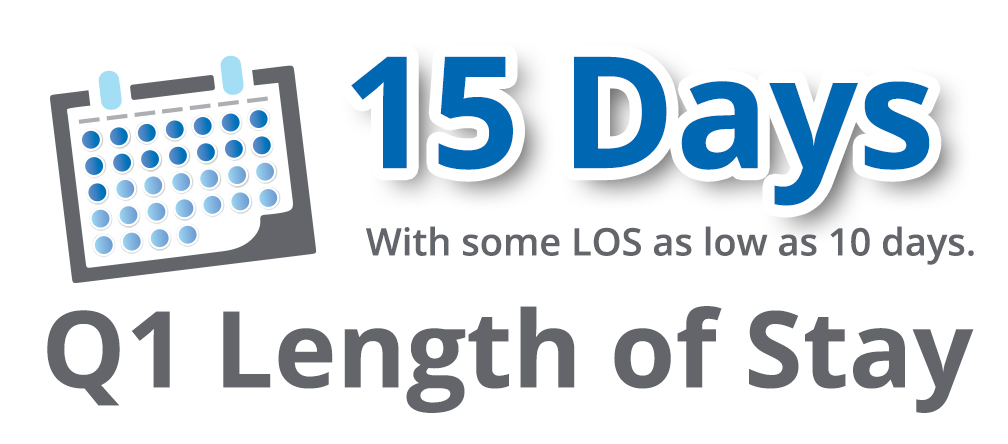 Case Mix Index
Case Mix Index (CMI) is a relative value assigned to a diagnosis-related group of patients in a medical care environment. Higher CMI numbers indicate higher acuity/complexity level of patients.

Clinical Capabilities
Admissions accepted 24/7
1 Physician, NP, PA in facility 5 or more days/wk
Stat lab test with dlh
Stat xray turnaround time
Swallow studies
Psychiatry
Advanced Pulmonary Program
Wound Care
Pulmonologist
PM&R Physician
Nephrologist
Infectious Disease Physician
Licensed Social Worker
Psychological Services
Therapy Services (Offered 7 days a week)

Physical
Occupational
Speech
Respiratory

Frequent Vital Signs (Every 2 hours)
Strict Intake/Output Monitoring
Daily Weights
Accucheck for glucose monitoring
INR
O2 Saturation
Piped 02 up to 30L
In-Wall Suctioning
Nebulizer Treatments
Incentive Spirometry
IV Fluids/Antibiotics/IV Meds
PICC Insertion
TPN Clinimix
Isolation
Surgical Drain Management
Wound Vac
Chest Tubes
Life Vest
CPAP/BIPAP/Trilogy
Optiflow/Airvo
IPPB Machines (Intermediate Positive Pressure Breathing)
Tracheostomy Management
Fresh Tracheotomies
Dialysis (Transportation To/From)
Automatic Defibrillator
Additional Clinical Services:
GIP (General In-Patient) Hospice Care
Palliative Program Available
Care and Safety
24-7 RN coverage
24-hour staffing of registered and licensed vocational nurses
Infectious Disease and Wound Care physicians on staff
Night/Weekend Concierge Service
Custom menus for special dietary needs
The following are services available by contract through this facility and can be billed directly to Medicare/Medicaid for residents who utilize these services.
Podiatrist
Respiratory Therapist
Physical Therapy
Occupational Therapy
Speech Pathologist
Nutritional Supplements
Oxygen concentrator and nebulizer
Durable medical equipment
Laboratory, X-Ray, EKG
Medical supplies
Dermatologist
Ophthalmology